NEW MEXICO–HALT HOLTEC ZOOM COMMENTS TO NRC (Nuclear Regulatory Commission) – WEDNESDAY SEPT 16th at 6 Mountain Time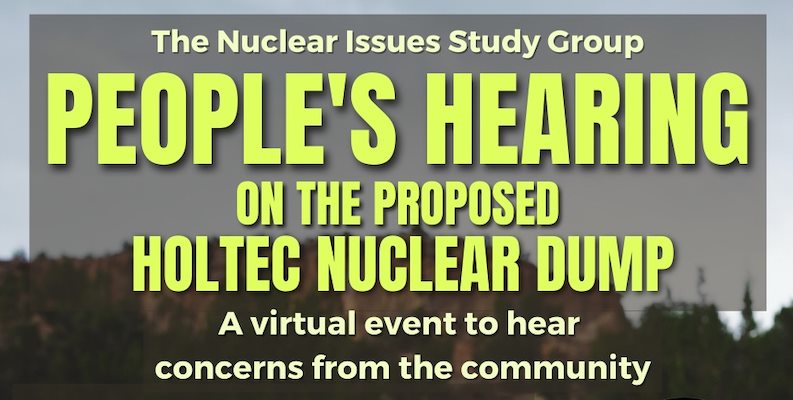 Join New Mexico folks (Nuclear Issues Study Group-NISG) on-line this Weds evening Sept 16th to make comments on ZOOM (you can watch via FaceBook Live) on the Holtec draft Environmental Impact Statement, starting at 6 mountain time. Visit NISG's Facebook event for updates on how to participate: https://fb.me/e/1GwpMN9KH. A People's Hearing–a ZOOM COMMENT OPPORTUNITY on Holtec's proposed high-level radioactive waste dump on SEPT 16th at 8 PM eastern/ 7 Central/ 6 Mountain – hosted by Nuclear Issues Study Group (NISG) based in New Mexico Please email protectnewmexico@gmail.com for more information or if you would like to make a public comment.
Folks can comment on the Holtec Draft Environmental Impact Statement and it will also be live-streamed on YouTube.
NISG will translate comments from Spanish speakers into English and transcribe all comments to send to the Nuclear Regulatory Commission before the September 22, 2020 public comment deadline. Visit NISG's Facebook event for updates on how to participate: https://fb.me/e/1GwpMN9KH. Leona Morgan+1 505 879 8547
Nuclear Issues Study Group
www.fb.com/NuclearIssuesStudyGroupMore Info:The Holtec DEIS was published on March 20, 2020 and available online at: https://adamswebsearch2.nrc.gov/webSearch2/main.jsp?AccessionNumber=ML20069G420#page423.NISG Web Series "We Are Not A Wasteland":https://www.facebook.com/NuclearIssuesStudyGroup/videosEpisode 1: Unpacking Holtec's Proposal:https://www.facebook.com/537856386561307/videos/311435906545504NRC Public Meeting Announcement:https://www.govinfo.gov/content/pkg/FR-2020-08-13/pdf/2020-17536.pdf www,nirs.org or http://org2.salsalabs.com/o/5502/t/0/blastContent.jsp?email_blast_KEY=1436758www.beyondnuclear.orgwww.nonuclearwaste.org